Game developers do not like advertising and do not use it very confidently, – the analytical company DeltaDNA reports according to the results of its own survey.
The survey itself was conducted between the developers of free-play games, the DAU of products of which ranges from several hundred users to more than 100 thousand people.
The survey revealed that for the majority of respondents (58%), the most profitable freeplay game is the one that is addressed to a casual audience. The most profitable game is a hardcore title for only 10% of respondents.
It's funny that at the same time, as the genre that most closely describes its highest-grossing game, the majority chose "action" and "strategy", 37% and 29%, respectively.
When placing ads, the majority of developers – more than 40% – prefer to show one ad per session or even less often. About 30% of developers do not show ads to paying players. 23% of respondents noted that they also segment non-paying players by segments and use a different strategy in relation to them.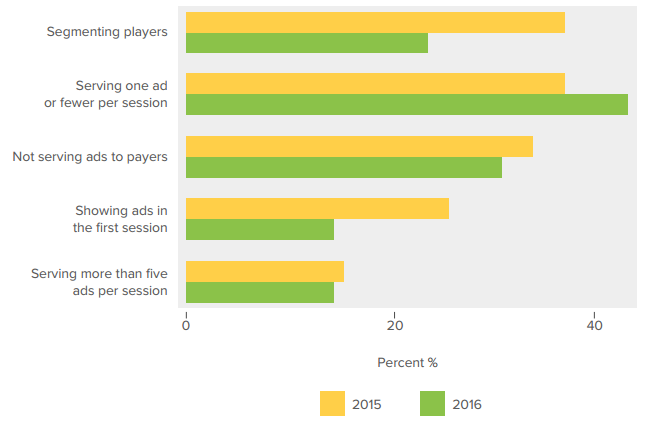 Distribution of answers to the question "which of the proposed statements is true to describe your approach to using advertising"
As for the number of one-time use of grids, most of them consider it optimal to use from 2 to 5 advertising services in their games.
Only 11% of respondents resort to mediation platforms.
The most popular type of advertising among game developers are banners, rewarded videos and just videos: 50%, 44% and 32% respectively.
Surprisingly, despite the fact that many people use advertising in their games, most developers are not sure that their approach to advertising is correct, optimal. Only 8% of developers are very confident in the correctness of their approach.
The main concern associated with advertising is a lower level of engagement and joy from the game. The majority of respondents – 36% and 29%, respectively – are worried that advertising will hit the gaming experience. A minority is worried about a drop in the valuation in the store or a drop in sales – 5% and 6%, respectively.
Distribution of answers to the question: "which of the proposed factors worries you the most when setting the frequency of ad impressions in the game"
Therefore, it is not surprising that half of the developers have a simple attitude to advertising – it is a necessary evil.
At the same time, for 38% of respondents, advertising is an "important monetization opportunity", and for another 29%, it is a means of earning money for those who do not pay.
For 57% of respondents – the largest share – advertising earnings are responsible for 21-60% of income. Another solid part of developers – 30% – advertising earns from 0 to 20% of all revenue.
The majority of respondents – 58% – describe their approach to advertising as experimental. Another 22% speak of him as cautious. The 30% approach is called balanced, but only 3% is successful.
A source: deltaDNA