In March, Sharpen Blade was released on the hyper-casual games market. The development of a small Yakut team DAYLESS has gained 56 million installations in six months. We talked with the game designer of the project about how the project was created and why the studio chose Zplay as a partner instead of Voodoo. Kunnei Vinokurova.
Kunnei Vinokurova
App2Top.ru : Kyunnei, hello! Please tell me a little about yourself. How long have you been in the industry, how did you get into it?
Kunnei Vinokurova: Hello! I've been in game development for about 5 years. I started from the position of a tester at MYTONA, I found a vacancy on the bulletin board. It was a great option, I always liked the games.
According to the Facebook page, you managed to work in two leading Russian gaming companies as a game designer. What kind of games have you been playing?
Kunnei: In MYTONA she worked on Seekers Note, in Playrix at various times she was on the projects Homescapes and Fishdom.
Was there any catalyst after which you decided: everything, now I will do and run the games myself?
Kunnei: There was no such thing, everything turned out somehow by itself. Of course, there were thoughts that you could try to make your own project, but I did not set myself such a goal.
How did you get into the Sharpen Blade development team?
Kunnay: It was this project that did not exist at that time, there was a team that Denis Gulyaev assembled. Before that, we worked together at MYTONA. Denis found me through mutual acquaintances, found out that I was free, offered the position of DG in the team, which was just released.
How many people were in the team at the start, and how many now?
Kunnei: There were 5 people at the start (3 programmers, an artist and me). There are four of us now.
By the way, how are things with game development in Yakutia? How active is the community, are there many teams, is it easy to find like-minded people?
Kunnay: Yakutia has a fairly active IT and game development life. The main player, of course, is MYTONA, and Fntastic is also actively developing. There are small teams like us and Cracked Heads. Like-minded people are easy to find, everyone is actively interested in game development.
You wrote on your Facebook page that the team had prepared 24 prototypes before Sharpen Blade. 6 were sent to development. Only one game "pulled metrics". On what principle was the work on the project built?
Kunnei: We had a clear goal — to publish the game.  To do this, it must match the publisher's metrics. The principle of development was as follows: each programmer made a prototype from selected ideas. So 2-4 prototypes could be released per week. The best ones were selected from them and sent for testing. While waiting for the test results, they continued to make new prototypes. If the prototype showed good results (CPI), then we made a working build to test retention. 1-2 programmers could deal with the build, the 3rd continued to make prototypes. If the retention was also normal, then the entire team was already involved in polishing the project.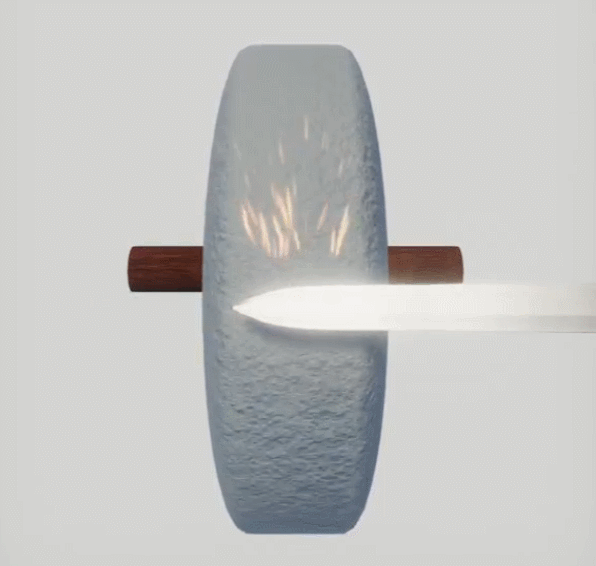 Prototype Sharpen Blade, at this stage the influence is especially felt Kingdom Come Deliverance
What values did the metrics have to have in order for the project to "pass"?
Kunnei: The most important metric for us was the price per installation (CPI). We were aiming for $0.15. As for retention, the indicator of the first day (D1) should have been from 50%. Then we looked at D3 (30%) and D7 (15%). Simultaneously with the work on indicators, we implemented monetization (interstitial, RV-video, banners).
By the way, now the requirements have dropped a lot, and publishers have become more flexible.
At what stage did the search for a publisher begin?
Kunnay: By the time I joined the team, Voodoo was the publisher, but after a while we switched to Zplay.
Wow, you had Voodoo, why did you choose a Chinese publisher?
Kunnay: Zplay interested us for several reasons: they have more flexible requirements for metrics, and also have payments for builds and the ability to test without a build. Voodoo at that time tested only with the build, it took a lot of time.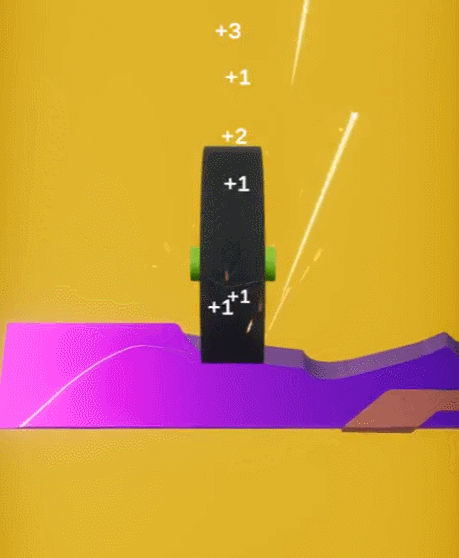 Sharpen Blade 1.0
Can you tell us a little about how the work with Zplay was built?
Kunnei: If we talk about prototypes, sometimes we sent them a document with ideas, they wrote what they liked. Sometimes we immediately made a prototype and threw them a video.
Zplay gave us quite a lot of freedom in development, they also helped with feedback and ideas for the development of the game.
The studio is designed in Russia, the publisher is in China. Were there any pitfalls here?
Kunnei: No, there were no special difficulties. Except that creating a sole proprietor was new and difficult for us.
Sharpen Blade appeared in stores on November 27. How original was the mechanics of sawing then?
Kunnei: It's hard for me to say, I can't remember such games before. Initially, I was inspired by the mechanics of sharpening from Kingdom Come Deliverance, in the process the idea was transformed into the creation of a sword.
Voodoo noticed the mechanics very quickly. On December 21, she launched into testing a largely similar Woodturning, which became a hit in January. What did you feel then, what did you think about the situation?
Kunnei: It seems to me that these are unrelated things, Woodturning is a completely different game. When she came out in the tops, of course, we paid attention. I really liked it, I wanted to achieve about the same sensations in our game. But we didn't have any serious thoughts and fears.
There is a point that is not very clear to me. In December, the game appears in stores, but active promotion begins only in March. Why?
Kunnei: It took a lot of time to fine-tune the project. We really lacked Retention D1, and the CPI was excellent. We have tried many variants of mechanics, the step-by-step sharpening with automatically changing grinders turned out to be successful.
Sharpen Blade 1.6, here grinders do not change automatically yet
How much do you think the success of Woodturning has hit you?
Kunnei: It's hard to say, it would probably be easier to buy traffic without Woodturning, but these are just thoughts, I don't have any data.
At the same time, the full launch of your game took place simultaneously with the launch of Sword Maker, a very similar Playgendary project. Have you somehow monitored the situation by those who were inspired by you?
Kunnei: Yes, we monitored the clones for the sake of interest. Most of them were empty dummies, in which there was only advertising. Sword Maker was a clone of an earlier version of our game, which did not "pull" metrics. In later versions, meta was added to Sword Maker, and we changed the mechanics and the games became different.
In March, the game was released on the Chinese market. Please tell us which markets were covered and how successful was the release in China?
Kunnei: In China, we almost simultaneously launched iOS and Android. The release turned out to be very successful for us: on iOS, we held the first place in downloads for about two weeks. I think this is largely due to Zplay and Ohayoo, they know the market, how to work with it. Unfortunately, I can't orient myself on Chinese markets.
Sharpen Blade 1.8
What was the difference between the Chinese version and the world version (as far as I know, exactly the icon, but what other changes were there)?
Kunnei: They are quite similar for a player. But there are a lot of differences in small things, for example, there are fewer ads in the Chinese version, a different balance and progression in Freemode, Share is also integrated into TikTok, there is a system warning that the user should take a break from the game, Chinese SDKs are also implemented.
You wrote on your Facebook page that as a result, the game has 56 million installations today. This is together with Chinese Android stores, right? Can you tell us about the distribution of downloads between the Western and Chinese markets?
Kunnei: Yes, it's the whole world, 36 million — global and 20 million — China.
Looking back, what was the hardest part, do you think?
Kunnei: Probably the hardest thing was not to give up and put the squeeze on the game. There were moments when I wanted to quit the game and start another one.
What to expect from the studio next?
Kunnei: There is no studio as such, we all work on equal terms. Now we took a break, the development was intense, but I'm still thinking about further plans.
Thanks for the interview!
---
Is there any news? Share it with us, write to press@app2top.ru