In the first two weeks of sales, Brawl Stars earned half as much as Clash Royale.
The global release of the new blockbuster Supercell took place on December 12. Over the next 14 days, the project managed to collect 27 million downloads, and its revenue, excluding the share of stores, reached $ 22.4 million.
That's a lot. For comparison, Fortnite collected about 7.7 million downloads on iOS in the first two weeks of its global release and earned $15 million.
However, this is less than the previous Supercell game earned in the same period. In the first 14 days, Clash Royale was downloaded 30 million times, and its earnings amounted to $ 47 million.
According to preliminary results for December, Brawl Stars is in the top 5 most downloaded games in the world by total downloads and in the top 20 highest-grossing games. Over the past month, the game has earned more than Gardenscapes and Lords Mobile, but less than Clash Royale and Knives Out.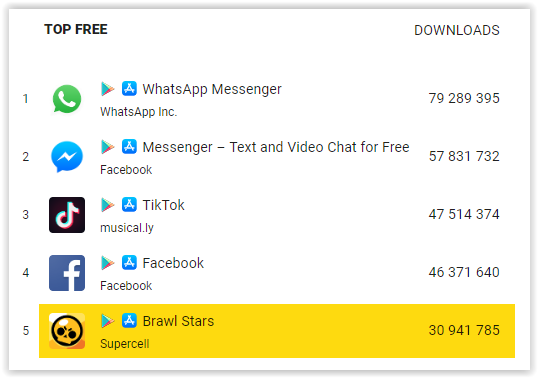 Top most downloaded games for December 2018 (DataMagic)Also on the topic: