The Russian publisher of online games will be responsible for the upcoming release of Era of Legends in the West. In China, the project was launched in the summer by the publisher Tencent under the name MT4.
Era of Legend
This was reported by VentureBeat with reference to 101XP today.
In conversation with App2Top.ru Ilya Salamatov, Vice President of Business Development at 101XP, confirmed the news: "Yes, we are indeed releasing MT4 in the West."
However, he noted that 101XP is not a partner of Tencent, but of Locojoy studio. She is the developer of a project that, according to DataMagic, has earned $134 million in five months on Chinese iOS alone. Its total daily revenue for all stores is $2 million.
Era of Legends revenue from the Chinese App Store by mid-December (excluding the share of Apple, DataMagic)
By the end of August, Era of Legends was the second app in the world to earn money with iOS.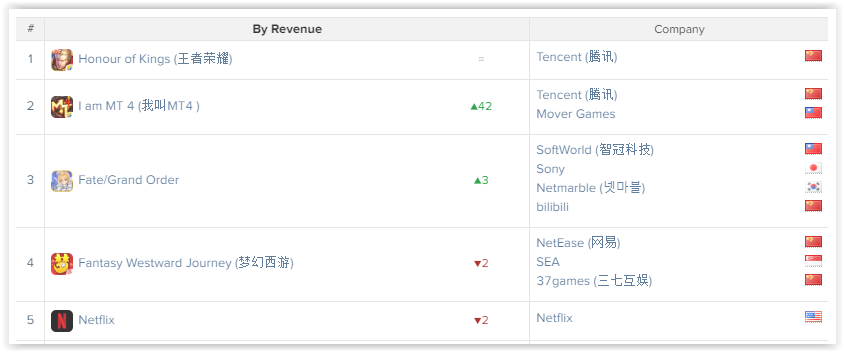 Top 5 Most Earning Games (August 2018, App Annie)
But there is a nuance.
The project in China, after high initial sales, began a strong drop in monthly revenue. However, Salamatov notes that the drop in revenue was not so significant: "It was just a very high base initially."

The dynamics of Era of Legends in the Chinese App Store (July — November, DataMagic)
Era of Legends is a three—dimensional role-playing MMO from the third person.
Visually, the project resembles World of Warcraft. However, in terms of mechanics, it is closer to Lineage 2 Revolution. For example, there is also automatic movement.
The release of the game on the Western market will take place in the first quarter of next year.
For 101XP, working with Asian companies is not new. The Moscow company specializes in the production and operation of oriental MMOs in Russia and the CIS. However, earlier 101XP brought games to the Western market. For example, she launched an MMO in Europe Jade Dynasty from Perfect World.