Gaming expert Simon Carless once again examined the documents used in the court between Microsoft and the US Federal Trade Commission (FTC). He found a report on a meeting of the almost former head of PlayStation, Jim Ryan, with managers of the Fidelity Investments investment corporation in 2022. It discussed the PlayStation strategy and its plans to create game services.
At the meeting, Ryan noted that most PlayStation IP can be turned into service games. In his opinion, this is an unused source of income.
▪️Sony's gaming division has a low margin. It is at the level of 13-15% (low teens). For comparison, the marginality of Activision Blizzard, whose portfolio includes the hit games-services Candy Crush and Call of Duty, is about 30%.
The main goal of PlayStation is to become less dependent on games developed by third—party studios. To do this, Sony plans to make more exclusives, including games-services.
According to Ryan, if everything is done correctly, especially in the field of gaming services, the financial potential of the strategy will be simply impressive.
Separately, Carless looked at how the daily active audience (DAU) is distributed among the 50 most popular games on PlayStation consoles at the moment. According to GameDiscoverCo estimates, only 7.3% of DAU accounts for games that belong to Sony (these are God of War: Ragnarök, Ghost of Tsushima, Gran Turismo 7, Astro's Playroom, Destiny 2 and two parts of Marvel's Spider-Man).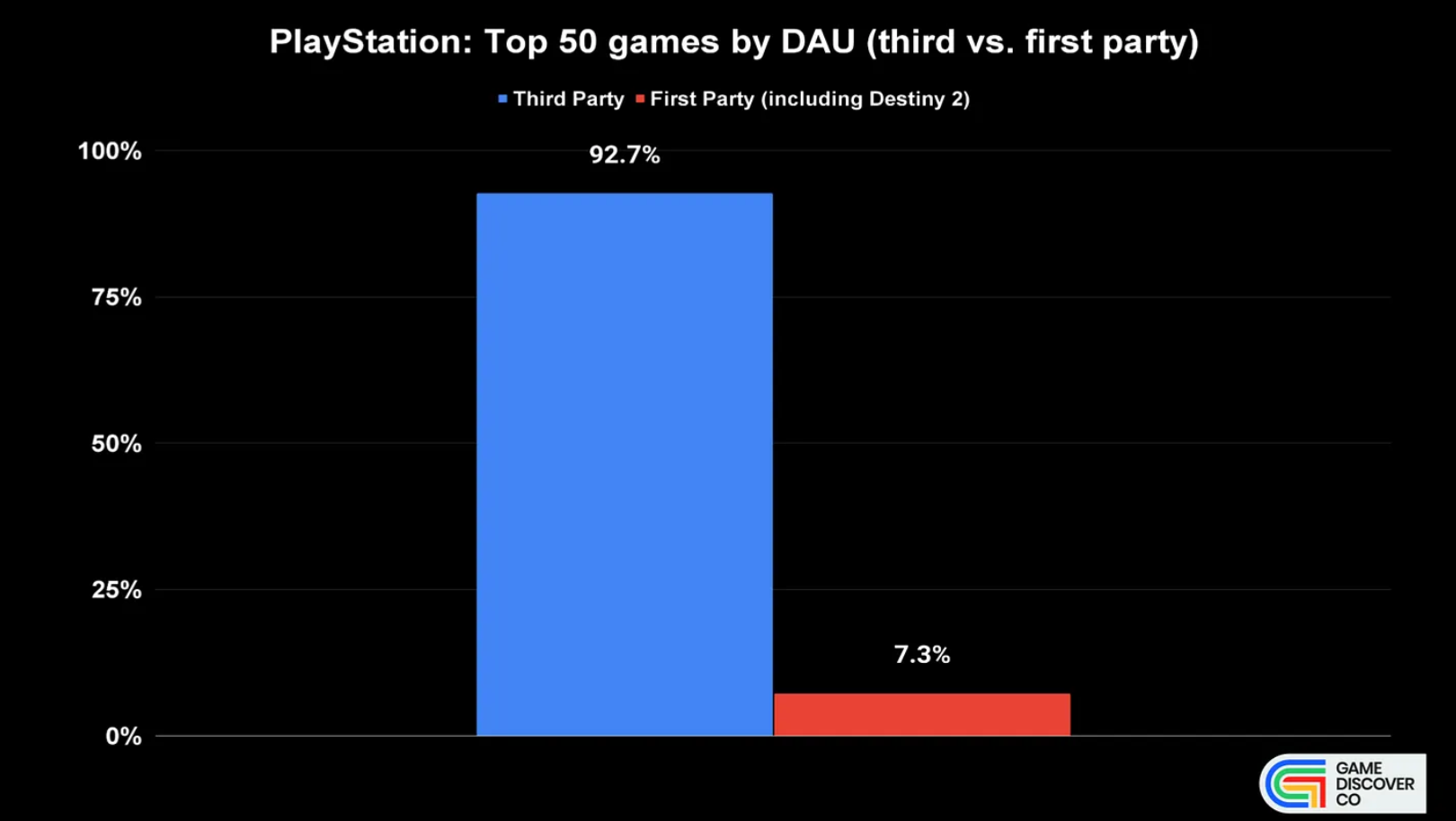 Carless himself doubts Sony's strategy. According to GameDiscoverCo, over the past year there have been almost no games among the new products on the PlayStation that have kept the DAU above 100 thousand people for a long time. The exceptions are hits such as Hogwarts Legacy and God of War: Ragnarök, as well as sports simulators like FIFA.
He also pointed out that successful game services are often relatively old. Paradoxically, their long-term success is partly due to the fact that they are old.
"Perhaps Sony should improve the post-release monetization of its exclusives with DLC or buy more assets like Bungie with already popular game services, rather than forcing its studios to make game services from scratch," Carless concluded.