Mobio advertising agency together with the Russian group of the international association IAB presented a map of the Russian mobile advertising market for this year, – writes Cossa.ru .
The map is divided into 11 categories of companies engaged in the promotion of products in the mobile sphere. However, since so many people are engaged in this kind of business today, it was decided not to include traditional advertising agencies, application developers who are actively engaged in advertising, as well as resources specializing in publishing reviews, also write on the pages Cossa.ru with reference to Alexey Pisarevsky, CEO of Mobio.
By the way, we have compiled our own dictionary, a little different from the one offered by the companies, we offer to get acquainted with it. A little below you can find a map. 
Mobile agencies are actually companies offering a wide range of services in the mobile sphere. 
Ad networks are advertising networks, services offering to purchase inventory from a large number of advertising platforms (websites, applications) in one, roughly speaking, place. Interestingly, the original source says that such grids are also called "blind" because they do not disclose the sites they work with. 
SSP – usually this abbreviation is disclosed as Sell Side platform. These are platforms through which advertising networks sell their inventory via RTB. Or, in a nutshell, platforms for RTB trading from the sites. The task of SSP is to sell more expensive places for banners that the publisher has prepared on their websites. However, in a specific case, Mobio and IAB Russia were reduced to the category of Western players offering to monetize applications using in-game banner advertising. 
Social networks – advertising social networks that allow you to host mobile advertising.
DSP is also a Demand Side Platform, platforms for RTB bidding by advertisers. The goal of DSP is to buy impressions of the audience that best matches the advertiser's requests as cheaply as possible.
Premium networks – the main difference from Ad networks is that they tell customers about the sources of their traffic. Based on this data, the customer can understand how the proposed traffic suits his goals.
Tracking – systems for collecting conversion data (between applications and traffic sources).
Analytics – data collection systems inside the application.
Direct publishers – the sites themselves that offer to buy advertising directly from themselves. 
CPI networks are networks that take payment not for the number of impressions, but for the number of installations that advertising has given on their sites. 
App Stores – mobile app stores.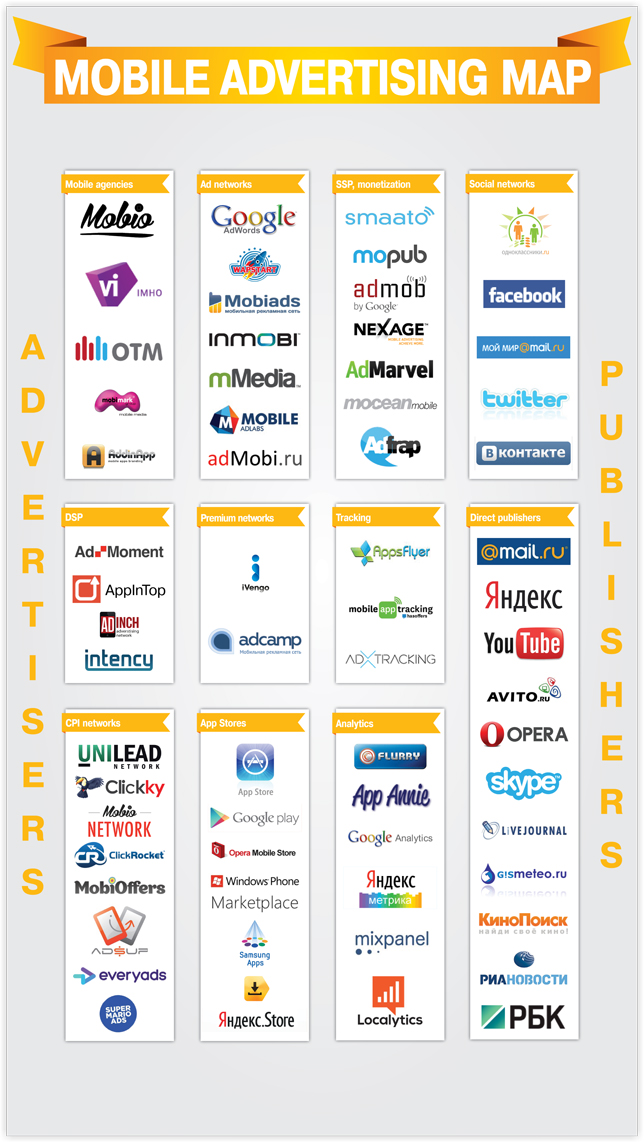 A source: http://www.cossa.ruMobio is a full-service mobile agency.
The main services are mobile advertising, promotion of mobile applications and games.