MTS, the Russian mobile operator, has published statistics on smartphone sales in Russia for the first quarter of 2012. It is worth noting that the growth in the domestic smartphone market is quite natural.
According to the data, in 3 months Samsung managed to double sales, reaching a record 32.3% (for comparison, at the end of 2011 Samsung's market share was only 14.8%). Thus, according to experts, the company's profit for the first quarter of 2012 alone amounted to $812 million.
Apple's share has decreased by 0.7% over the past year. Perhaps the reason for the decline is in the company's pricing policy relative to competitors. Some analysts believe that Apple's share will increase significantly after the release of the new generation of iPhone this fall.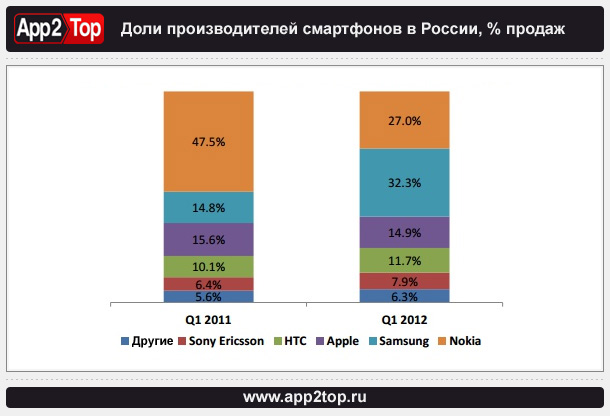 As for Nokia, it managed to lose almost half of its market share, reducing it from a record 47.5% in 2011 to 27.0% and losing the leadership position to Samsung.
The MTS report also has interesting statistics on the market shares of mobile operating systems. The most common OS is still Symbian, followed almost closely by Android.
Separately, we note the statistics on smartphones running the Windows Phone operating system. In the first quarter of 2012, WP-smartphones in Russia became more popular than the iPhone: the share of Windows Phone-based devices amounted to 8.2% of the total number of smartphones sold, while the iPhone took only 7.3%.
Nokia Lumia 800 and Nokia Lumia 710 have also taken three positions among the top five best-selling models in the price category of over 10,000 rubles. Windows Phone smartphones are HTC Mozart, Nokia Lumia 800 and Nokia Lumia 710.