The latest information on the leaders of the American iPhone games market for the week (17.06 – 23.06) from Distimo: tops of free, paid and cash applications in one material.
We took another short break from publishing Distimo reports on weekly leaders in the American market. Has the market situation changed much? Yes, how can I tell you.
Top Free Apps
As often happens, everything is very lively in the free top. First place for Despicable Me: Minion Rush from the French Gameloft, which copied Subway Surfers. A popular title, familiar mechanics and cute minions provided the game with leadership.
The second place goes to Candy Crush Saga, which has been sitting in the top-5 free iPhone US since the end of March. And over time, its position here is only getting stronger.
Third place for the game What The Riddle? from the Rainy Day App. This is the third project of the studio in the spirit of the spring 4 Pics 1 Word from the German LOTUM GmbH (by the way, the original project is still quite successful – it is in the box office hundreds in more than 27 countries). The essence of the novelty is in guessing riddles.
In fifth place, having made a giant step in 232 positions in one week, is Escape If You Can. It is also far from an original project, the ideological heir of 100 Floors and similar works.
Sixth place for a simple creative project Hair Salon – Fun Kids games, in which the player will have to do styling, painting women's heads.
Word Search Puzzles, comfortably located in eighth place, is also difficult to call an original project, although, of course, not without it. In a field filled with letters, the user must find a certain number of words in the allotted time.
In tenth place is another make-up studio simulator – Prom Night Makeover from Ninjafish Studios. We take a girl, remove pimples, put cucumbers on her eyes, and then choose lipstick and carcasses. In general, for the most creative.
Top Paid Apps
The main sensation is the displacement of Heads Up! A new Disney project – Where's My Mickey? It is unclear how long it will be able to hold the attention of users.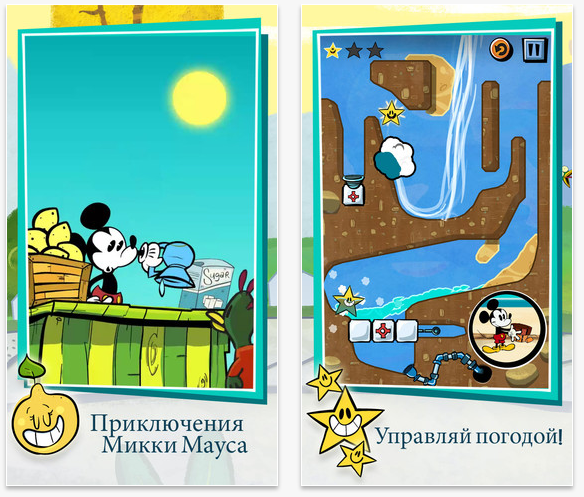 In fifth place is another bright newcomer – Icebreaker: A Viking Voyage, Rovio's first publishing project. The game is very strong and of high quality, so we hope that it will eventually rise in the top.
Yes, it's curious, but even after the cost reduction to $0.99, Infinity Blade II from Chair Entertainment did not enter the top ten. The game went up 90 positions, but stuck in 11th place.
Top Cash Register applications
For three weeks, the first six positions in the box office top have not changed. That is, in general. There are no newcomers. Everything is boring.