Newzoo has released another monthly review of the most popular midcore games. In October, Battlefield 1 and Paladins entered the top 20 on PC.
League of Legends remains in the first place in the Newzoo rating, Minecraft takes the second place. In this position, the game has replaced WoW. Blizzard's performance has decreased, but only compared to September, when the Legion addition caused an influx of new players and an increase in the number of sessions.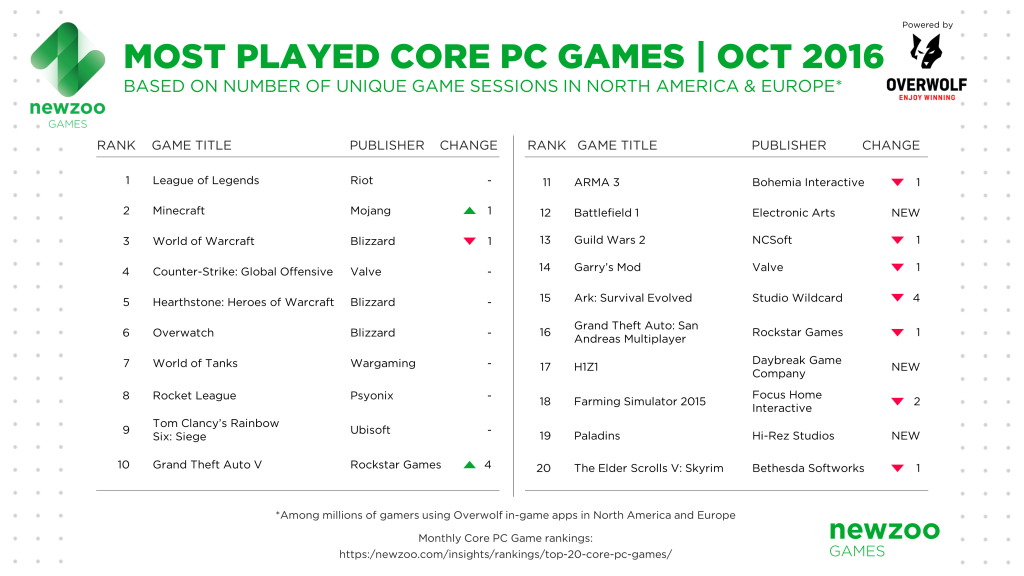 New projects in the chart are Battlefield 1 (12th place) and Paladins (19th). According to Newzoo, the Battlefield series games are constantly getting into the top 20. So, Battlefield 4 ranked 17th in the September chart. However, the release of Battlefield 1, which took place on October 21, completely displaced the game from the top twenty.
Paladins: Champions of the Realm, in turn, was released in mid-September. The game was compared to Blizzard's Overwatch and criticized not only for this, but also for its poor quality. However, negative reviews did not prevent the project from starting immediately from the 19th place in the chart of the most popular games.
Let's add that the data was collected among US and European users who use Overwolf gaming applications.
Source: Newzoo