This Thursday, apart from the release of iOS 8, which required your humble servant some inadequate 6 GB to install, was a little disappointing. There were no cool releases, such as when you put the game on and realize: I will play it at least until next Thursday. See for yourself.
The main feature of the current week is the ideological heir of Clash of Clans from Rovio Stars. A colorful three-dimensional game "about the same thing" with a large number of original finds (or rather, borrowings from Battle Pirates from Kixeye).
>
Despite the fact that the game is "about pirates", Plunder Pirates is somewhat subtly reminiscent of Alien Nations in mood (in Russia it was published by 1C /Snowball under the label "The Lost World"): joyful bright graphics, deliberate cartoonishness. And, it would seem, a great project, but it seems somewhat overloaded. So I continue, if anything, to wait for Iron Desert from Mail.Ru . It is also bright, but in moderation.   
A little more than four years ago, Epic Citadel appeared in the App Store. Then she produced the effect of an exploding bomb, demonstrated what graphics can be on mobile devices. She "ate" the battery like crazy, unlike NinJump, which was released around the same time by Backflip Studios, but they didn't pay attention to it. 
The Unreal Engine 4 advertisement, slightly lagging on the iPhone 5S under the name Zen Garden, does not make such an impression. Nice, neat, but after The Collectables on CryEngine (palm trees were swinging there!), I just want to shrug my shoulders. Perhaps, at the instrumental level, this is a candy, but the application does not impress the average user (they got zazhral, yes). 
Galaxy Dash: Race to the Outer Run
A very pleasant, somewhat meditative, but completely optional runner. We control a space rocket, avoid collisions with meteorites and destroy enemy ships.
I am glad that you will not write the project into anyone's clones. From the somnolent imitators of Temple Run / Subway Surfers, the game is decently distanced (here you have several lives, and a perfectly implemented "combat model"). But a cartoon sci-fi setting and a monochrome color palette are unlikely to help the game in winning an audience (a good casual game in a "male" setting – why?). 
The closest analogy that comes to mind is Majesty with a single character, or here: beat 'em up with inderect control.
And now in order.
There is an arena where your ward is constantly fighting. The minimum task is to survive as long as possible, the maximum task is to collect the amount necessary to redeem yourself (initially, the gladiator is in a deep minus).
But it is, almost a plot.
You can hardly control a gladiator (optional, direction), but you can swing its characteristics (as many as eight pieces), buy spells for it and increase the coolness of enemies. The more powerful the enemy minions are, the more your hero gets for killing, and, accordingly, the faster you can pump him.
The project is spoiled by a very weak implementation, but conceptually it is beautiful. 
Dedicated to the lover of minimalistic games. But, unfortunately, only them.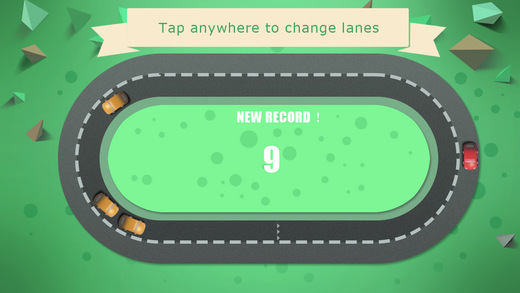 There is a looped track with two lanes. Cars are moving along them in opposite directions at a constant speed, constantly jumping from lane to lane. You control one. Your task is not to collide with three others moving towards you. The more laps you last, the higher you will be in the high score table.
I almost forgot, the author of Do Not Crash made a very popular variation of Don't Tap The White Tile – Piano Tiles.