The other day, Jan Koum reported that the MAU of the WhatsApp messenger exceeded 600 million. The CEO and co-founder of the app is sure that his brainchild has left far behind all rivals. Is it so? Let's try to figure it out.
I must say that the Godfather stepped on a sore spot for competitors: MAU is far from the same as the number of registrations or downloads. In terms of the number of active users, WhatsApp really surpasses its Asian counterparts LINE, Kakaotalk and WeChat.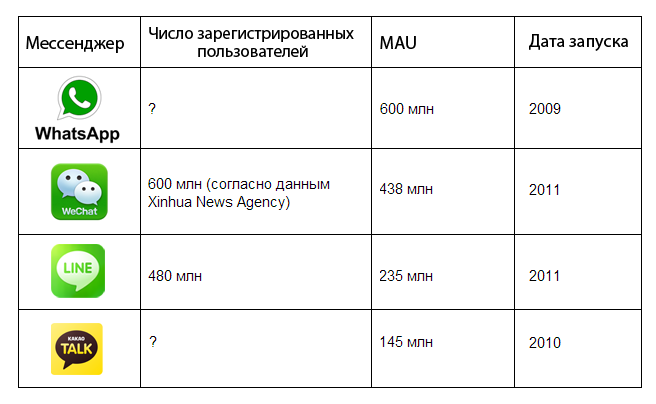 So, while WhatsApp is leading. How long will this state of affairs last?
The war of messengers has been going on for a long time and is only increasing momentum over time. Asian giants LINE, KakaoTalk and WeChat attract users with a variety of services. They successfully offer paid stickers, themes and ringtones, do joint projects with popular game developers and even run ads on TV. In addition, messengers try to surprise the buyer with additional services: for example, in LINE you can draw graffiti to the interlocutor, and in WeChat you can chat with a random user by throwing him a virtual "letter in a bottle". In addition, Asian messengers have such a really useful feature as the ability to synchronize with a PC.
WhatsApp takes the harsh simplicity of the interface. It is monetized worse than its Asian counterparts, and sells, basically, only an annual subscription. The creators of the application emphasize that the messenger will not require micropayments or display annoying ads. Ascetic WhatsApp does not support PC synchronization. Nevertheless, the number of users of the application continues to grow. According to analysts, the reason is that the messenger has become owned by Facebook.
The markets are divided as follows: 
WhatsApp is widely used in North America, Western Europe, Russia, South Africa, Malaysia, Argentina, Singapore, Hong Kong, Spain, India, Mexico
LINE – Japan, Thailand, Indonesia, Taiwan
KakaoTalk is popular in South Korea
WeChat – China (according to various estimates, up to 90% of users use it)
Thus, we see that WhatsApp provides a significant gap from its Asian competitors, perhaps, a long stay on the market and, accordingly, a developed user base in Western countries.  In our opinion, it has no indisputable advantages over its Eastern counterparts. Considering that LINE is going to expand in the direction of the western market, we can conclude that WhatsApp will soon have to move on its pedestal.
Photo: http://www.creativematch.com