Last year, there was neither a COVID-19 pandemic nor global self-isolation. About how the gaming market developed Europe before the world quarantine, told in the annual report European Interactive Software Federation (ISFE). Spoiler: The market itself grew by 3%, and the best—selling game turned out to be FIFA 20.
The main thing from the report:
the revenue of the gaming market in Europe for 2019 as a whole amounted to €21.6 billion (this is 3% more than in 2018);
the total revenue of key European markets (France, Great Britain, Germany, Spain and Italy) amounted to €14 billion;
most of the revenue in key markets came from console games — 43% of revenue, mobile is only in second place at the box office;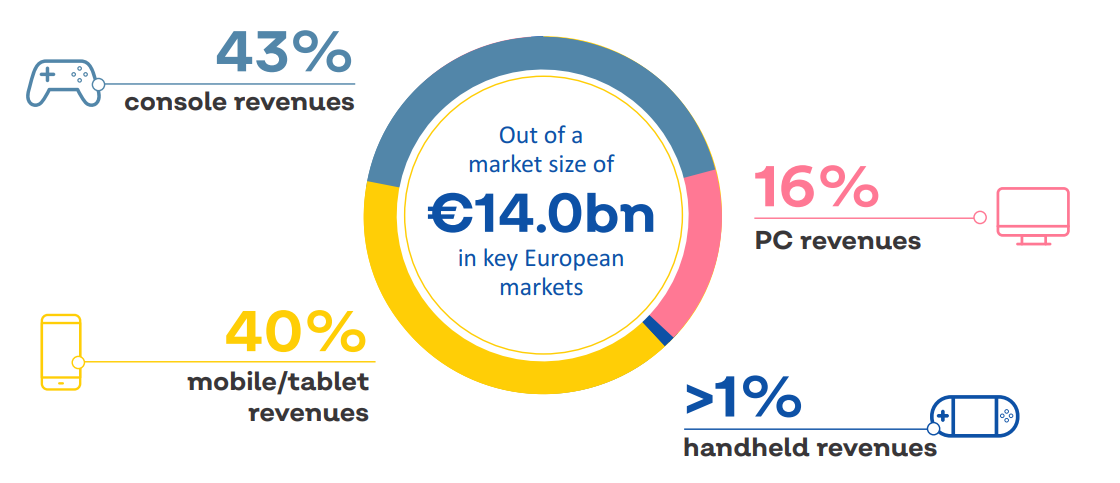 Distribution of revenue by platforms (key European countries)online sales brought 37% of the total revenue of video games in key European countries, mobile sales — 39%, and sales of disc copies of games — 24%;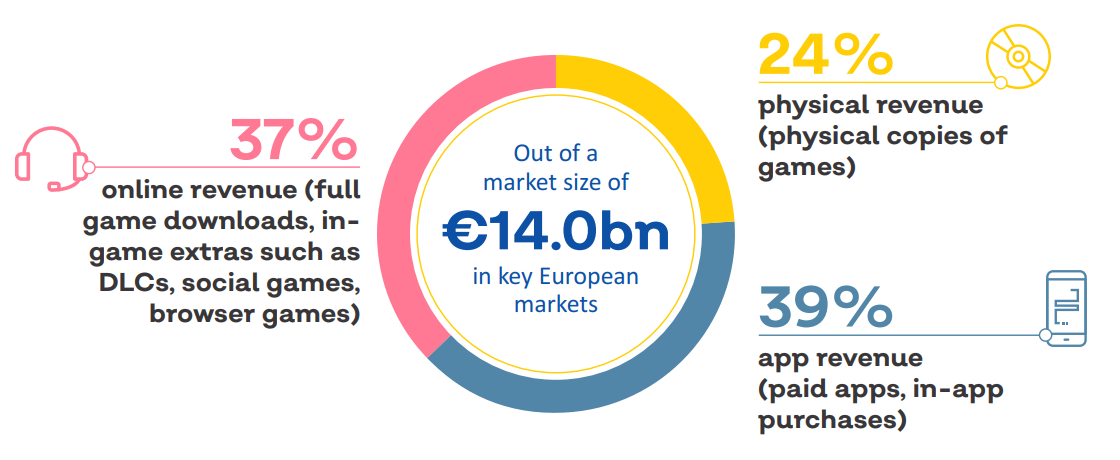 Distribution of revenue by distribution type (key European countries)€9.7 billion — revenue from digital sales in key European countries (but Italy was not taken into account here);
revenue from the digital market in key European countries increased by two and a half times compared to 2014 and by 7% compared to 2018 (also excluding Italy);
Revenue growth from 2014 to 201966% of digital sales revenue came from IAP, 21% from game purchases, 13% from subscriptions and social games;
earnings of gaming subscription services and those that allow you to play in the cloud in Europe in 2019 amounted to €324 million (data on market dynamics are not given);
the best-selling games in Europe last year: FIFA 20, GTA V, Call of Duty: Modern Warfare and Red Dead Redemption 2;
51% of residents of France, Great Britain, Germany and Spain aged 6 to 64 years play video games. Among them, 59% choose mobile, 54% — consoles, 51% — PCs, 17% — portable devices and another 17% play on all devices except portable;

Distribution of the European audience of gamers by platformsthe average age of a gamer in Europe is 31 years old;


Distribution of the European gaming audience by agethe most active gaming audience in Europe is children aged 11-14 years, 84% of them are gamers, followed by people aged 15-24 years (74%), 6-11 years (73%), 25-34 (59%) and 35-44 (46%).
The players in the 45-64 age group are the least common (31%);
The proportion of gamers among Europeans of different age groups77% of European gamers play at least an hour a week.
Time spent playing gamesAlso on the topic:

---
Share it with us, write to press@app2top.ru